SWOT analysis method It's one of those tools that's both effective and easy to use the Swot . method to set up business strategies of an enterprise, help them build and develop on a long-term operating line, not only in Marketing in particular, but also in business in general.
So what is Swot?
SWOT is a collection of four abbreviated English words: Strengths, Weaknesses, Opportunities and Threats. business performance of the enterprise.
The SWOT model is a well-known business analysis model for all businesses that want to improve their business situation with the right direction and build solid development foundations.
So what is the SWOT analysis method?
SWOT analysis method is an important factor to create a strategy for the production and business of an enterprise. Through the SWOT analysis, businesses will have a clearer view of their goals as well as factors inside and outside the organization that can positively or negatively affect the goals set by the business.
In the process of developing a business plan of the enterprise, SWOT analysis It is considered as the most basic tool, bringing high efficiency to help businesses have a more holistic view, not only about the business itself but also the factors that always affect and determine the success of the business. success or failure of the business.
In short, SWOT analysis method of the business include the following aspects:
Strengths: The characteristics of a business or project that give it a competitive advantage over its competitors.
Weakness: Characteristics of a business or projects that make the business or project weaker than its competitors.
Opportunity: Environmental factors will be able to be exploited to gain advantages.
Challenge: Environmental factors will have a negative impact on the business or project.
Why should businesses need to do a SWOT analysis?
To create a really useful SWOT analysis, often the founders and senior leaders in a business will be directly involved in the processes of building them. This is clearly not a job that can be delegated to anyone else.
But sometimes, the company's senior leadership team is not directly involved in many activities of the business. Therefore, to achieve the highest efficiency, the SWOT strategy needs to have the contributions of a group of many members representing many different departments and divisions. Everyone should have a role to play in building SWOT analysis method.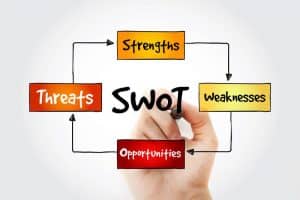 Large businesses will go even further, when they collect information directly from customers to SWOT analysis. Various perspectives can be of great help in formulating and mapping out more specific business strategies.
How to do a SWOT analysis?
Straightforward and not omitted in the process of statistics all data. Your business should also care about everyone's opinions.
Edit, remove duplicate features, underline distinctive and important features.
Analyze their meanings.
Map out the actions that need to be taken, strengthen important skills, eliminate weaknesses, exploit opportunities, protect from threats and risks.
Periodically update the SWOT chart, adding completeness and efficiency.
Conclusion
Thus, HOSTAGY has clearly analyzed the SWOT analysis method What is for small and medium businesses. Hopefully, this reading will help you better understand what SWOT is, and the appropriate methods and strategies to improve your business.
It may take a bit of time and effort to study the business strategies of the business, but trust HOSTAGY, everything has a price, having a full amount of knowledge is never redundant. waste.
Hope this article has given you a better understanding of SWOT analysis What is it and how to do it? SWOT model right.
Good luck!