How to use mailchimp Today, with social networks becoming popular, marketing on social networks is also very developed and competition is also very large, leading to large advertising costs. However, to have a traditional marketing channel and be evaluated as the initial investment cost is quite low compared to its effectiveness, which is Email Marketing. Today HOSTAGY will guide you use Mailchimp how to do it properly.
So what is Mailchimp?
Mailchimp is essentially an Email Marketing service used to take care of all customers via email of the company and specifically it is a tool to collect email lists (Email List), manage email lists and also send emails. for all customers in the Email list at the same time. And it can also be sent to a different group of customers, and can also schedule automatic mailing.
On the Internet, as it is today, there are many tools to do Email Marketing, but compared to other tools, Mail Chimp is also quite easy to use and meets the basic needs. In addition, you can also send up to 12000 emails for free and manage 2000 subscribers.
How to use Mailchimp for beginners
Register to use Mailchimp
First, go to the homepage of Mailchimp.com to Sign Up free.
Then you enter the complete information in the box:
Note: Password you should set
Must have uppercase characters
Must have special characters
Contains numeric characters
Password must not be less than 8 characters
After Sign Up After that, we go to Email to activate the account

Next, you confirm and then fill in your complete information. Then click Continues to continue declaring more personal information.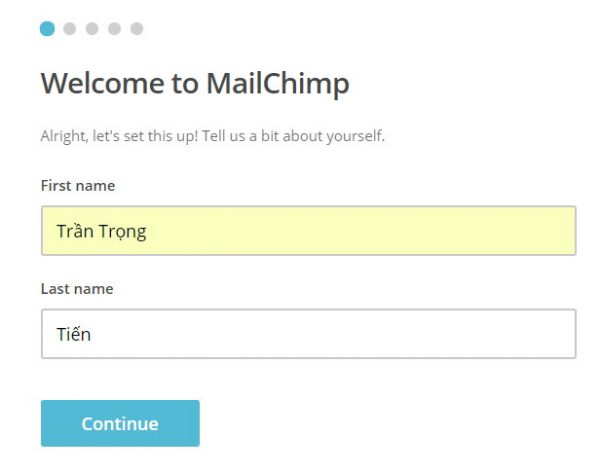 How to Create an Email List
You select List and then click Create a List
Next, fill in the description for the List, then click Save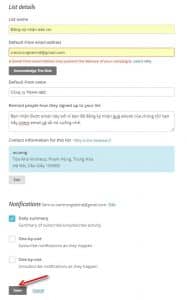 That's it, we will continue to the next steps
Create a registration form to embed on the website
To create a registration form on the website, we select List and then click Stats

Next we click on Signup Forms

Then navigate to Embedded forms and select Select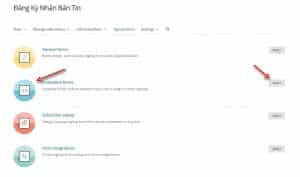 Then we fill in the title of form in the Form Options section.
And change the width of the form in the section Form Width
Embed registration form in website and blog
You want to embed this registration form on your website, then find the code in Copy/paste onto your site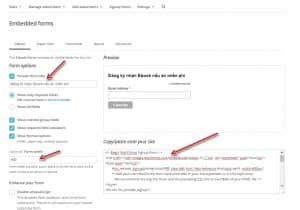 Then you put this code into the Text Widget in WordPress or anywhere that supports an HTML editor.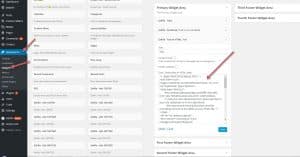 As a result, we have a form for customers to register on our website.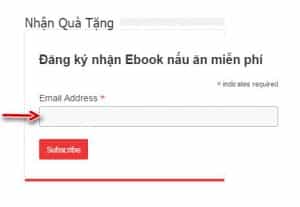 If you want to edit the Form: then go to Signup Forms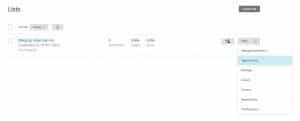 Then go to the General Forms tab and select Select.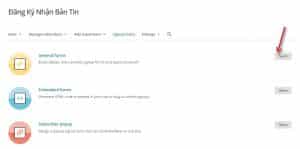 Next, go to Build it and then you can drag and drop the necessary fields to add to the form, for example, add the phone number field as phone.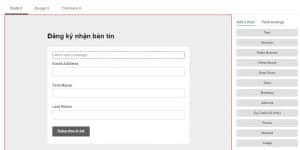 If you want to Vietnameseize all notification lines (including activation and welcome messages), then go to the tab Translate It and select Vietnamese language in the Set Default Language section.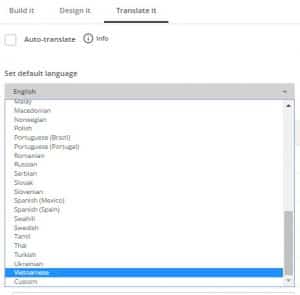 How to create an email and send it to a list of customers
Once you have many customers signed up to receive emails, the next job is to send emails.
To be able to email all the people in the list, please click on the item Campaign on the menu.

You click the Create Campaign button according to the arrow.
Now Mailchimp will give you 4 email delivery options. If you only want to send regular messages (notices, newsletters, promotions, etc.), please select Regular Campaign and I will explain in detail below.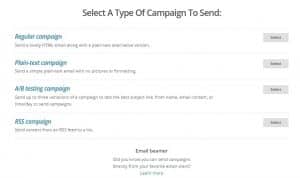 Regular  Campaign: A form of sending emails in the usual way in text or HTML format to registered users.
Plain-Text Campaign: The usual form of sending email in a plain text format, the simplest is just text.
A/B Testing Campaign: This feature allows you to send email in 2 different times so you can check the effectiveness of each send.
RSS Campaign: This feature enables automated email delivery by automatically pulling data from an RSS Feed. This is very relevant when there is a new newsletter published on your website.
After selecting, it will ask you for the list to send.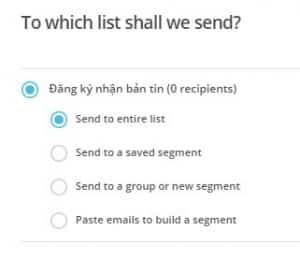 Send to entire list: send to the entire list
Send to saved segment: Send to the list segment you want.
Send to group or new segment: Send the group of lists that you have filtered out according to a certain condition, such as a group of male customers.
Paste emails to build a segment: Paste existing emails to create a new email list segment.
Then click Next in the bottom right corner of the screen.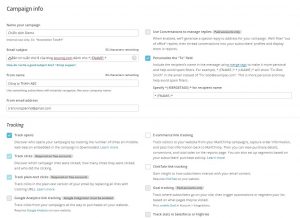 Now Mailchimp will ask you to choose an email template that you like and then you go there to edit it as you like.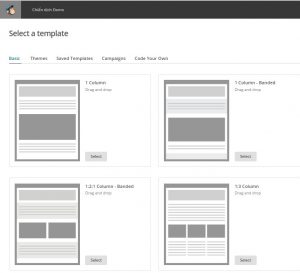 Then now our job is to compose emails, edit images...

After you have finished composing the email, keep clicking Next until you reach this page and then press the Send Now button to send or Schedule to schedule Mailchimp to send itself.

Epilogue
Here are the instructions How to use Mailchimp Basically, you can immediately apply them to your work. But those are not the features expected in an Email Marketing software, the features that are most expected in email marketing are the ability to measure, control, to adjust campaigns based on results. results and responses such as tracking view rate, open rate and click-through rate of links in messages, and re-open rates so that we can measure how interested customers are in that newsletter.